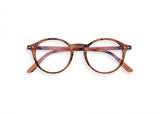 Frame D Screen Glasses
Frame #D: timeless, best-selling, round - Unisex, universal model - Storage pouch included in the box.
SCREEN glasses filter out 40% of the blue light emitted by screens, thus reducing eye fatigue, eye irritation and headaches. This feature is achieved by a treatment that makes the lenses slightly yellow whilst not augmenting the visability of true colours.
Rubber touch, flex temples, designer frame: comfort and style guaranteed.
Stay connected without any worry!